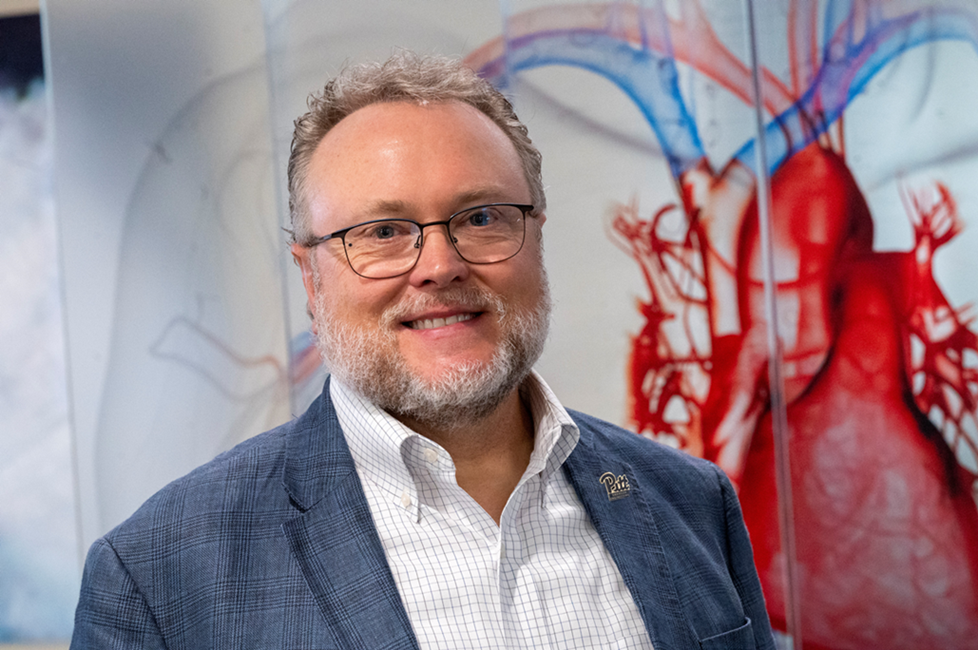 David A. Vorp, PhD is the Sr. Associate Dean for Research & Facilities at the University of Pittsburgh Swanson School of Engineering and the John A. Swanson Professor of Bioengineering, with secondary appointments in the departments of Chemical & Petroleum Engineering and Mechanical Engineering & Materials Science in the Swanson School; the departments of Cardiothoracic Surgery and Surgery in the School of Medicine; and the McGowan Institute for Regenerative Medicine and the Clinical & Translational Sciences Institute. He received both his BS and PhD degrees in Mechanical Engineering from the Swanson School of Engineering in 1986 and 1992, respectively.
Dr. Vorp began his academic career in 1992 after joining the faculty of the Department of Surgery, University of Pittsburgh School of Medicine, where he built an internationally-renowned NIH-funded research program. He has been an integral part of the Department of Bioengineering since its founding in 1996, and served as its graduate program chair from 2001-2009. He also serves as the founding Director for the Center for Vascular Remodeling and Regeneration, and is Co-Director of the Center for Medical Innovation. He has served as the Interim Director of the Petersen Institute for Nano-Science and -Engineering (PINSE) and as the Acting Director of the Pitt Energy GRID Institute.
Dr. Vorp has worked closely with clinical colleagues to develop a multi-disciplinary, NIH-funded research program focusing on abdominal aortic aneurysm disease, vascular "mechanopathobiology" (the role of biomechanical forces in the development of vascular disease), and tissue engineering and regenerative medicine applications for vascular and urethral systems. Dr. Vorp has published 142 peer-reviewed articles to date, and currently serves on three editorial boards. His research has been supported by more than $20 million in funding as principal investigator (PI), and an additional $8 million as collaborating investigator, from foundation and federal agencies such as The Whitaker Foundation, the American Heart Association (AHA), the National Institutes of Health (NIH), The Pittsburgh Foundation, and others.
Dr. Vorp was recognized for his research achievements with the prestigious Van C. Mow Medal from the American Society of Mechanical Engineers (ASME) in 2011 and the Carnegie Science Award in Life Sciences in 2013. He is an elected Fellow of the AHA, ASME, the Biomedical Engineering Society (BMES), and the American Institute for Medical and Biological Engineers. Dr. Vorp served on the Executive Committee of the ASME Bioengineering Division (BED), including as BED Secretary (2012-2013) and BED Chair (2013-2014). He was elected to the Board of Directors of BMES for two terms (2006-2009; 2009-2012), and served as BMES Secretary for two terms (2012-2016). He became the first non-MD President of the International Society for Applied Cardiovascular Biology in 2012 and served two terms (through 2016).
Dr. Vorp was twice awarded a Pitt Innovator Award. He has filed 59 US and foreign patent applications, and has been awarded 30 US and foreign issued patents, from which 4 option and license agreements have been executed to date. In 2009, he co-founded Neograft Technologies, Inc., which focused on the commercialization of Angioshield™, a vein graft modification technology developed in his laboratory. In 2023, Dr. Vorp co-founded Aneurisk, Inc., which is focusing on the development of a machine learning-based classifier and predictive model for aortic aneurysms. He currently holds ten patents in this and other technologies.
Dr. Vorp has mentored numerous trainees at all levels, including 15 post-doctoral fellows, 20 PhD students including one MD/PhD student, 13 MS students including one MD/MS student, 10 medical students, and 82 undergraduate students from 15 different universities. Many of his students have been supported by NIH, NSF and AHA fellowships. He currently serves or served as PI/Program Director or co-PI on four training grants and has served as training faculty on three others. This includes serving as the PI/PD of the NIH T32 Training Grant 'Biomechanics in Regenerative Medicine' (BiRM).
Dr. Vorp was named Associate Dean for Research in 2012 and then Sr. Associate Dean for Research and Facilities in 2023. In this role, he facilitates, coordinates, and supports the research enterprise and infrastructure within the Swanson School, including its research centers and institutes. During his time in these roles, research expenditures have increased through FY23 by 140% (99% since FY17, 58% since FY20), which includes a 65% increase in industry-sponsored research expenditures. He oversees the Swanson School's Sponsored Projects Office, which he formed in 2020. Dr. Vorp spearheaded the development of Pitt's applied research laboratories at the Pittsburgh Energy Innovation Center, which includes the University's GRID Institute.