About Pitt Strive
Welcome to the University of Pittsburgh Swanson School of Engineering PITT STRIVE program (formerly known as the AGEP-TDAE). STRIVE stands for Success, Transition, Representation, Innovation, Vision, and Education.
Studies reveal that Black/African Americans (5.3%), Hispanic/Latinos (3.5%), Asian Americans (9.1%), and American Indians (1.4%) are significantly underrepresented in the professoriate compared to the university/college student populations. The primary goal of the PITT STRIVE program is to improve the transitions of Underrepresented Minorities (URM), who are US citizens, into doctoral engineering programs at the University of Pittsburgh and to ensure their successful completion by employing evidence-based strategies for student and faculty engagement and fostering an inclusive academic climate for URM doctoral students.
The University of Pittsburgh PITT STRIVE program is housed in and administered by the Swanson School of Engineering Office of Diversity. The Engineering Office of Diversity and the PITT STRIVE leadership team will develop, coordinate, implement, and assess program activities and outcomes in the following focus areas:
Improving faculty engagement with URM students
Improving faculty awareness of the problems facing URM students
Developing a shared vision among vested faculty regarding the success of URM students within our School of Engineering.
Fostering an inclusive academic culture climate for the success of URM doctoral students.
Who is eligible to participate in PITT STRIVE?
Member of an underrepresented minority group (Black/African American, American Indian, Hispanic/Latino, Alaska Native, and Native Hawaiian or Pacific Islander).
Graduated from an accredited STEM undergraduate program with a 3.3/4.0 GPA and show strong motivation for entering a PhD program at University of Pittsburgh Swanson School of Engineering.
US citizens (permanent residents and students with disability also eligible).
STEM fields supported by PITT STRIVE at the University of Pittsburgh
Bioengineering
Chemical & Petroleum Engineering
Civil & Environmental Engineering
Electrical & Computer Engineering
Industrial Engineering
Mechanical Engineering & Materials Science
PITT STRIVE is funded by the National Science Foundation (NSF) Alliances for Graduate Education and the Professoriate-Knowledge Adoption and Translation (AGEP-KAT) program. AGEP-KAT funds support the expansion, adoption, and/or adaptation of research findings and evidence-based strategies and practices related to the participation and success of underrepresented minorities (URMs) in STEM graduate education, postdoctoral training, and academic STEM careers at all types of institutions of higher education. The AGEP-KAT award funds Transition to the Doctorate by Adaptable Engagement (TDAE) activities at the University of Pittsburgh's Swanson School of Engineering to adopt evidence-based strategies to improve academic climate and the success of underrepresented doctoral students in engineering.
Mission
The PITT STRIVE program adopts evidence-based strategies to improve the academic culture and the success of underrepresented minority (URM) doctoral students in engineering.
Vision
We STRIVE for excellence in academic and faculty engagement cultures that promote the success, transition, representation, innovation, vision, and education of URM PhD students.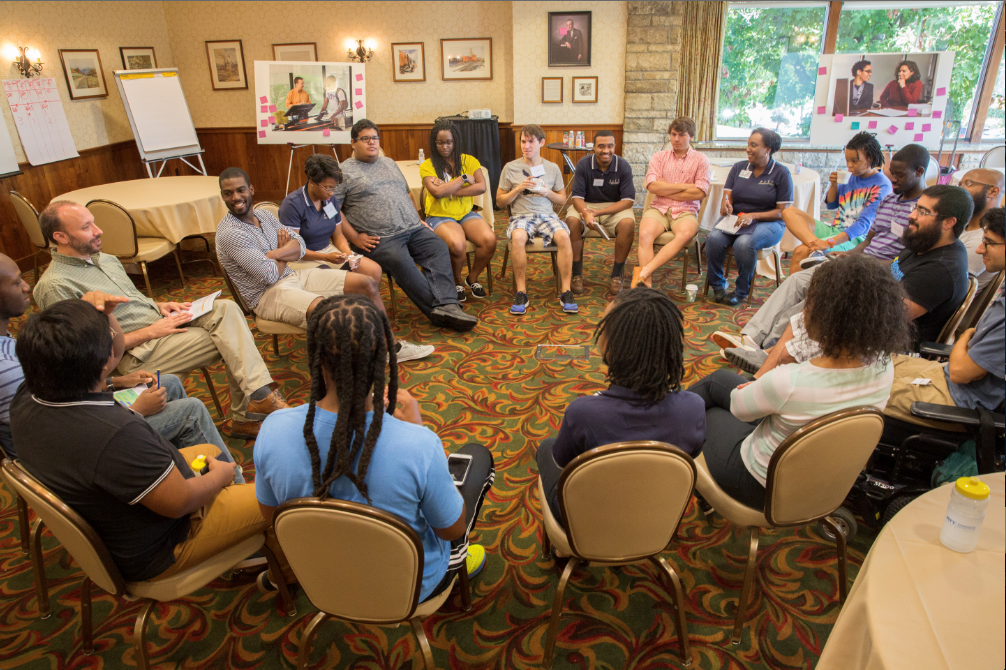 PITT STRIVE Fellows at Annual Retreat in the summer of 2016: Fostering good relationships between mentors and mentees.