PLEASE NOTE: Unfortunately, INVESTING NOW will not be accepting new applicants for the Summer 2021 recruitment period at this time. The program is currently in a period of reconstruction and will conduct recruitment at a later date. Any and all online application submissions are still received into our database, but they will not be reviewed in time for the summer program as they have been in the past.
Welcome to the INVESTING NOW Program
INVESTING NOW, created in 1988, is a college preparatory program created to stimulate, support, and recognize the high academic performance of pre-college students from groups that are historically underrepresented in science, technology, engineering and mathematics majors and careers. The purpose of the program is to ensure that participants are well prepared for matriculation at the University of Pittsburgh.
The primary goals are to:
Create a pipeline for well-prepared students to enter college and pursue science, technology, engineering and math majors
Encourage and support students' enrollment and achievement in advanced mathematics and science courses
Ensure that the participants make informed college choices
Support and encourage parents in their role as advocates for their children
Coordinate partnerships between the University of Pittsburgh's Swanson School of Engineering and local schools.
Every year, approximately 150 students participate in INVESTING NOW activities. Membership in INVESTING NOW involves a student commitment to attend year-round programming from ninth through twelfth grade. Programming focuses on six areas: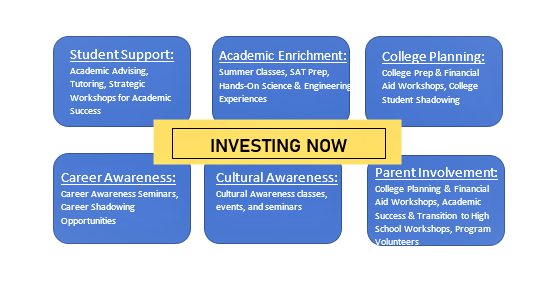 Investing Now
Investing Now
152 Benedum Hall
3700 O'Hara Street
Pittsburgh, PA 15260